So my boys needed a new towel rack in there bathroom. They have really outgrown the cute ducky one I put in there when Garrett was born. Since all my boys are semi lazy slobs I decided to stay with a hook rack instead of a regular towel rack. I went to Hobby Lobby and found these for $2.50 each.
(don't you just love the beautiful paint all over my carpet? This is from my boys sneaking into my craft paint and going hog wild one night)
I wanted something rustic as there bathroom leans toward a beach theme. I got my husband to grab some pallet planks at his screen printers warehouse. (Hubby sells promotional products, you can check out his website at www.whiteboardpromotions.com)
I measured out my plank and divided it into the # of hooks I had which was 6, so for the area I wanted to put the hooks I needed one every 6 inches
I then attached them with glue and some small screws in those tiny screw holes at the bottom of the hook, which was really cursory because those little things weren't gonna hold crap.
I waited over night and then screwed the plank directly into the studs, above it I hung two wire baskets I bought at Marshall's and then hung the wooden buoys that Nana gave Garrett a while back.(thats southern for a while ago)
Here is a closer view
I love it and it was so inexpensive to make! Now if the towels will just land on these hooks instead of the bedroom and bathroom floor all will be well in my land!

Pin It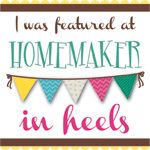 Linked On Nifty Thrifty Things, Homemaker in Heels, Sassy Sites, I Should be Mopping the Floor, Kitchen Fun with My 3 Sons, The DIY Dreamer, Happy Go Lucky, Joy in the Jumble, Craft-O-Maniac