While we were on vacation in San Diego my sister got me hooked on instant grits again. I used to eat these every morning at my desk when I worked.
Ingredients:
2 Packets Quaker Instant Grits
1 Cup Water
Butter
Salt to taste
Shredded Cheese of your choice
Egg
Toast (optional)
So I got out my big soup mug and made the grits, it's 2 packets of Quaker Instant Grits and 1 cup of water. Stir them good with a fork till you get all the clumps out, if you don't you will get a big gooey glop in your grits. Put them in the microwave for 2 minutes, Then I put in a little butter and salt and stirred really good. Next I sprinkled some cheese on top and then placed a fried egg* on top.
When you dip your spoon in you get all that runny egg goodness!
Dig in and dip with a piece of buttered toast and enjoy!
* FYI I did try doing this by putting everything in the cup and cooking it all together in the microwave, it took about 5 minutes for the egg to finally cook and was more curdled like egg instead, not so great, sometimes my geniusness doesn't always work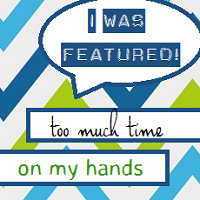 This post linked up to these great blogs please go visit these great Ladies!
" />