This is a sponsored post written by me on behalf of Alcon. All opinions are 100% mine.
This year I turned 46 and in the past year I've noticed some age-related vision changes. So many changes start happening after 40, your skin starts to sag and show "fine lines"and let's not even start in on hair popping out in places it's never grown before. Sometimes I think poor eyesight is life's way of making it harder to see some of those changes and keep me in denial a little longer. Aging and your eyes are not a joke, and it's called presbyopia. It's not being able to focus on small objects and/or fine print. When it first happens you are in deep denial and start finding yourself holding things further and further away. You end up looking an ostrich stretching your neck backward and changing your phone font to the biggest size possible. Then there comes a day when no amount of straining and stretching is going to cut it.
The next step is to deal with it yourself because there is no way you are going to the Doctor and admit you need Bifocals! You head to the store when you know no one is going to be there and look for reading glasses because you don't dare have anyone see you trying them on. As a woman, I, of course, had to search for readers that were funky and cool because if you are going to wear them then you don't want them to look like reading glasses! Why? I'm only half way through my life, and there will be no surrendering to orthopedic shoes, polyester pants, or glasses hanging on my neck with a chain anytime soon. Alcon, the global leader in eye care, partnered with Jackson University on The Age Perception Impact Survey. It examined the perceptions and attitudes of aging among Generation X (people between the ages of 38-54), and it found that although we value looking younger most of us don't feel younger than our age. Many of us dye our hair, wear more youthful clothing, and some get cosmetic procedures done. Nearly 50% surveyed said they would consider avoiding reading glasses if they knew it made them look older, and one in four said they think reading glasses make someone look at least ten years older. For some reason, half of us still wear them. It's officially time to ditch them your readers! Are you with me? Then read on, or check out LoseYourReaders.com. I am lucky enough to have a brother in law that is an optometrist and this week the boys and I had our annual eye exams. In addition to presbyopia, I'm nearsighted and wear contacts or glasses for distance vision. I started to realize I'm using readers more and more because I can't read things on my phone or tablet very well. Heaven forbid I have to read a medicine bottle. Now I have to find my readers because when I'm at my desk they are in my purse or vice versa. Then there is the constant swap out when I'm wearing my glasses and this situation is just irritating. My doctor suggested multifocal contact lenses by Alcon. They allow you to see far away and up close. You would think this will be difficult to adjust to, but it just takes a blink, and you adjust to whatever you are looking at. Two years ago I switched to DAILIES AquaComfort Plus® contact lenses, which are awesome because you don't have to deal with solution and cases anymore. I just open a pack, pop them in, and at the end of the day toss them in the trash. With liquid travel restrictions, they also make packing for air travel simpler.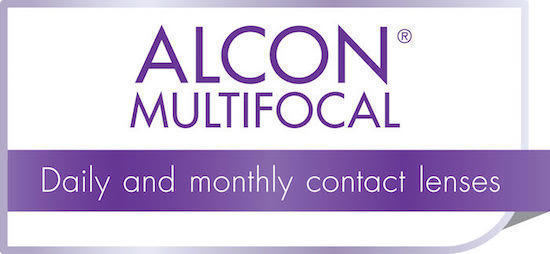 *High oxygen transmissible lenses. Dk/t=138 @ -3.00D. †Eye exam may be required. Professional fees may apply. At participating offices. Important Information for AIR OPTIX® AQUA Multifocal (lotrafilcon B) contact lenses: For daily wear or extended wear up to 6 nights for near/far-sightedness and/or presbyopia. Risk of serious eye problems (i.e., corneal ulcer) is greater for extended wear. In rare cases,loss of vision may result. Side effects like discomfort, mild burning or stinging may occur. Ask your eye care professional for complete wear, care, and safety information.