This post brought to you by STOLI® Vodka. All opinions are 100% mine.
My kids and I love to make lemonade in the summer. I sometimes like to add a little something else to mine. This summers most loved cocktail is Stoli Lemonade and I'm going to show you not only how to make it but tell you how to change it up!
I promise you will love this drink on a hot day! Stoli Vodka is the original premium vodka and set's the standard by which all other vodkas are measured so when I want vodka this is the one I reach for. I love this easy summer cocktail because the smoothness of the vodka paired with the crisp tart lemonade is a perfect combination.
This summer Stoli is showing you how to squeeze the most out of your summer and is rolling out their Limo-nade trucks in over 12 US cities to share with you this recipe for Stoli Lemonade. Follow Stoli on Twitter for the latest #StoliLemonade updates!
I just love that truck don't you? You have to go visit the truck if it's coming your way, you can try a few versions of summers best cocktail, a refreshing lemonade popsicle and get some great swag! I know you love free stuff!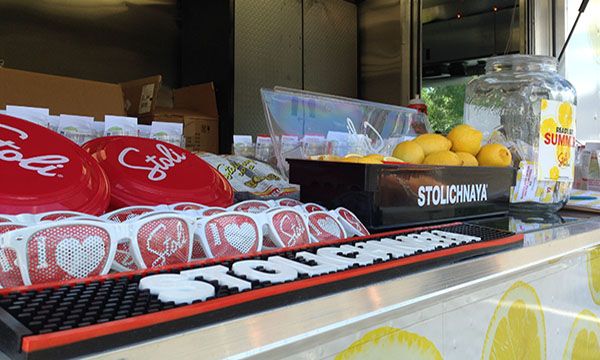 Now for my favorite summertime cocktail recipe:
2 parts Stolichnaya Vodka
4 parts Lemonade
Ice
Mix together Stoli Vodka and Lemonade and pour over ice in a cute mason jar or highball glass. Garnish with a lemon wheel and you are good to go. You can make as a glass or a huge pitcher just follow the 2 to 4 ratio.
Now the fun part is changing this recipe up. Stoli has so many flavored vodkas you could customize this drink for any occasion using flavors like Orange, Raspberry, Blueberry, Peach, Strawberry and Apple! The possibilities are endless.
See more Stoli recipes and ideas on Instagram and share yours using the hashtag #StoliLemonade. You can see other kicken cocktail recipes and squeeze more out of your summer just visit the Stoli Facebook page! I just love the lemon truck and and hope my city is one they visit! You can see more of the truck here:
Now I want to know when you are going to make this recipe and have some fun in the sun with a Stoli Lemonade? After a day in the yard? At the pool? or maybe with some girl friends on the back porch?