Hi Everyone I am so excited to announce I got my first FEATURE! Weeeeee Thanks to Crystal at
Homemaker in Heels
! You have made my week! Please make sure you visit her and give her some follow love!
So for those of you who are not bloggers a lot of us link to things called linky parties where we share things we have cooked, crafted, or found info on. At the next weeks linky party the host/hostess will sometimes share there favorites or the faves of there readers. Crystal was sweet enough to share the boys new
shipping pallet towel rack
. It is a real honor for any blogger (and really something we all crave and check back week after week to see if we got!)
Hubby is making me homemade pasta tonight to celebrate!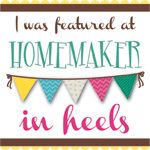 Pin It