Pin It Now!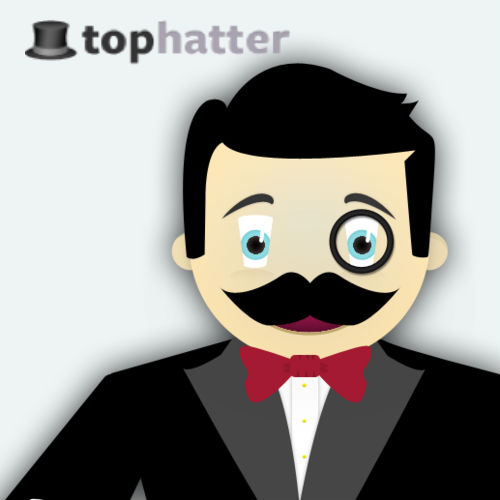 Have you met Sir Wendell Wattington? Sir Wendell resides in Palo-Alto, California and runs the worlds most entertaining live marketplace,
Top Hatter
. Now stay with me because at the end of this Sir Wendell has an early Christmas present for you!
Top Hatter
is tons of fun for sellers and buyers. As a buyer you can go into a virtual auction and place bids on items ranging from jewelry and designer bags to handmade items from you favorite etsy shops and lots of craft supplies. I recently purchased some small metal letter stamps I had not decided what to use them for until I saw this lot of metal charms come up for auction. I got 60 of these beauties for only $14.
My first project will be custom wine charms for my book club girls. I think these will make fabulous Christmas gifts. I am awaiting an alert for these to come up for auction again.
You might be saying, "I'm busy I don't have time to wait for things to come up for auction all day." Well you don't have to! You can go see what you like then just click on it for a text message alert. Sir Wendell's handy helpers will send you an alert right before the item goes on the block. I am sure your next question is, "What if I am not at home?" well there's an app for that so no worries.
The funnest part of this auction is that you can virtually see who you are bidding with and it is instantaneous unlike that other site that makes you bid for a week and wait for a email to tell you you have been outbid. You can also ask questions about the items and get instant feedback during the auction. As a seller it's easy to set up, you only need a verified Paypal Account and a little personal info to get started.
Sir Wendell has been nice enough to give all of Miss Information's readers an early Christmas present! Just follow
this link
for a $10 credit on any $11 and up purchase when you sign up for an account. Don't worry signing up for an account does not obligate you to anything. I can't wait to see what you get, I hope you will come back and let me know!
Have you discovered the
addictive new auction site called Tophatter
, where buyers bid for sellers' unique goods in fast-paced virtual auction rooms? From crafts and DIY projects, to antiques, jewelry, home décor and much more, there's no limit to what you can discover on
Tophatter
.
With live auctions every day, sellers get to showcase their wares from around the world to a community of thousands of buyers, and answer questions via chat as the clock ticks down. Each lot sells in an average of two minutes, so buyers must bid quickly!
Tophatter's auctions become interactive live events where buyers and sellers can hang out, chat, and win. Led by the esteemed Sir Wendell Wattington and his animated family, Tophatter auctions keep the fun rolling in.
This is a sponsored post written by me on behalf of Tophatter. The opinions and text are all mine.